We have heard that some of our customers are not updating to the latest eDART™ software because it takes to long to update every one in the plant. This causes them pain when they come up against the need for a feature or a bug fix that has already been released but that they did not use. This is to let you know that you do not need update each eDART one at a time but can update them in a batch.
From a computer that can "see" all of the eDARTs (or from the EDM) start the eDART installer. Then use the following steps: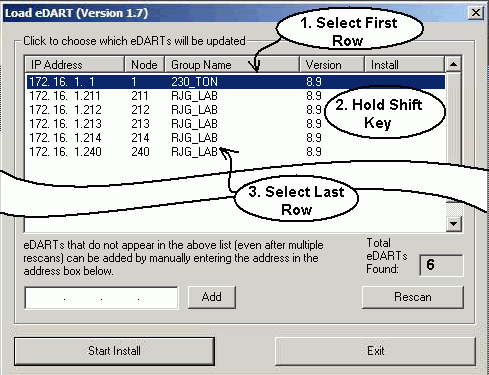 …
It will take some time to complete all of the eDARTS in the network. Once they are completed the text "Success" will show like this:

The eDART upgrades are not auto-installers. Some customers have resisted upgrading because they think they need to go from machine to machine and stop the job and restart the eDART. Actually, since release 8.2 you can just leave the install downloaded to the eDART until the next time the operator stops a job. Once the job is stopped he will get this message:

Be sure to tell your operators that it is ok to click on the "Yes" selection. When they do the eDARTs will restart themselves and install the software.
The only reason to skip the install would be if there is a great hurry such as a color change and you do not want to wait for the eDART to restart and install. If he skips the install the same message will pop up at the next job stop.
---
Notes and Variations
Remember that if you have a "7" release (prior to 8.0) you must first install release 8.0 and restart the eDART. The pop-up message will not be there so you need to remember to restart the eDART manually (QNX menu) after the 8.0 download and then again after the latest release.
Some eDARTS may not need the install; e.g. they already have the latest version. After selecting all eDARTS (step 3) you can hold the "Control" (Ctl) key and click those rows that do not need the install to un-highlight them.
Note that all of our optional software tools (here) automatically install themselves. You do not need to restart the eDART to install them. After the "Completed" appears on the installer the software is ready to use. Most software patches work this way as well.